We Sell The Best Used Volkswagens in Colorado Springs
Look No Further!
If you are in the market for a used vehicle, Auto 1 in Colorado Springs has everything you need in one spot. We take the stress out of buying a vehicle, because we understand that life is stressful enough. Here at Auto 1 in Colorado Springs we have the biggest selection of quality used vehicles to choose from. We supply many local dealerships with a large part of their inventory as well, and if we don't have what you're looking for, just click on the CarFinder and fill out the short form with the details. We will let you know as soon as we find you a matching vehicle. If you're going to need help financing your vehicle, we can assist you with that, too. In fact, to obtain a practically guaranteed pre-approval, just fill out the credit application here online. We work in association with many different credit unions, and they are great about working with people who have had some problems in the past. Credit unions tend to have lower rates and better service, as well. One of our brokers will assist you in finding the perfect vehicle for your needs, and get you behind the wheel for a test drive. If you love it, they'll make sure you drive it home. Afterwards, Auto 1 is here for you with our Service Department, where trained, professional mechanics are on-site and ready to perform routine maintenance or any repairs you may need. You'll love our newly remodeled lounge area while you wait, with amenities and refreshments. Plus, if your service takes more than 2 hours, we will provide you with a complimentary loaner vehicle for the day, at no extra cost to you. These mechanics also perform thorough inspections on each and every vehicle we sell, as well as any trade-in vehicle you bring in. Then we use Smart Market Pricing, a form of calculating a current fair value market price, using data from multiple sources including the Kelley Blue Book, when making you an offer on your trade-in. We use the same method when pricing any vehicle we sell, eliminating the need for negotiation right from the start. No worries, no hassles. If you're looking for a used VW in Colorado Springs, look no further.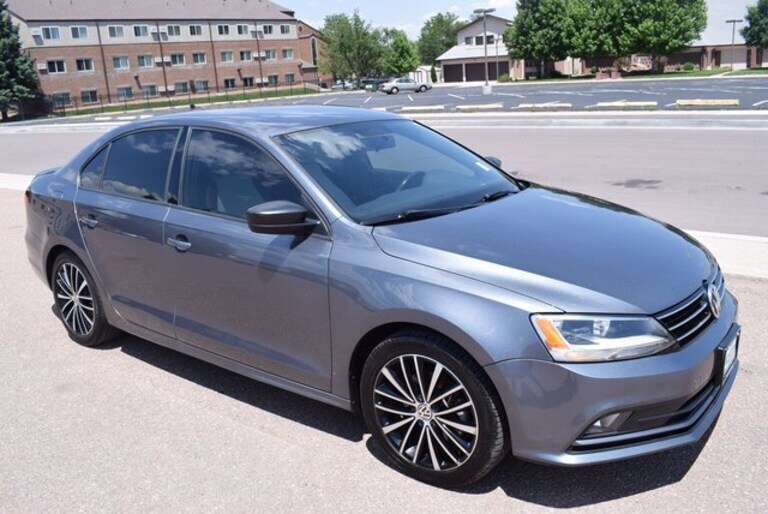 All About Volkswagens
A German automobile maker founded in 1937, Volkswagen, or VW for short, is part of the Volkswagen Group, the largest automaker worldwide by sales in 2016 and 2017. It literally translates to; "the people's car". In 1934, Adolf Hitler ordered the production of an affordable vehicle capable of transporting 2 adults and 3 children 100 km or 62 mph, because he wanted all Germans to have access to cars. He wanted it to cost just 990 Reichsmarks, and even had a savings plan set up for any employee who wanted to drive his own car. The average salary was about 32 Reichsmarks a week. The plan, despite his best efforts, failed when WWII erupted. The company hung on by a thread, but changed its focus to military vehicle production, and most VW's produced then, were done by slave labor from the concentration camps. Post-war, the Volkswagen Company was offered to many different representatives from multiple countries, including Henry Ford, who it was offered to at no charge. But no one believed it would make it, and so deemed it worthless. Heinrich Nordhoff officially took it over in 1948, but left it in 1949 to be controlled by a trust to the West German government and the government of the State of Lower Saxony. The VW was introduced to the United States in 1949, but did not see popularity until around 1955, when VW's reached one million sales. Today, Volkswagen Company owns Lamborghini, Audi, Porsche, and Bentley, and is the top selling automobile manufacturer in the world. Pretty amazing, isn't it?
Great Used Volkswagen Models
There are many different VW models that make great used cars, if you're partial to Volkswagens. And, there are many different terrific reasons why they are a good choice. Easy to fix, excellent gas mileage and real dependability, as well as a lower price, make them a super smart choice. Here are a few recommended models. First we have the Passat, which VW has been making since 1973. It's a 4-door sedan with a stylish design that gets 32 mpg, and is offered in a diesel version too, both at a fairly low price. Next, the Jetta, in production since 1979. It offers spacious interior, even better gas mileage than the Passat, reliability and a low price, as well as the diesel option too. Then there's the Tourag, the VW's answer to a full size SUV. The Tourag even has a diesel option, is very low-priced, and gives you safety and comfortability. And last but not least, don't forget the classic VW Beetle. The design hasn't changed much over the years, and if you want a used vehicle that gets excellent gas mileage, is easy to fix, costs much less than most other cars and is reliable and safe, the Beetle can't be beat. Keep in mind that whenever you're browsing for VW's, you'll almost always get the option for a diesel model, plus great gas mileage, optimum dependability and a low price. These things are pretty much standard, when shopping for a Volkswagen. And remember, if you're looking for the best used VW in Colorado Springs, come to Auto 1. We sell the best used Volkswagens anywhere, so come browse our inventory online. If you don't see what you want, click on the CarFinder and fill out the short, easy form with the details. One of our SSAB brokers will be in touch with you before you know it!

Also, check out our used Acura Colorado Springs Inventory!