We Sell The Best Used Toyotas in Colorado Springs!
Look No Further!
At Auto 1 in Colorado Springs, no matter what kind of used vehicle you're looking for, chances are we have it. And if we don't have it, we'll find it! Since we supply many dealerships in the area with a large part of their inventory as well, we have a huge selection of quality used vehicles. Browse our inventory online today, and if you don't see anything you like, go to our CarFinder link and fill out a short, easy form with the details. We will let you know as soon as we find a matching vehicle, as well as assist you with every aspect of your car buying experience. At Auto 1 in Colorado Springs, we take the stress out of buying a used vehicle, because we understand that life is stressful enough! We have everything you may need covered, so you can truly have "no worries" in this department.  Browse our inventory online, and if you don't see what you're looking for, follow the instructions above re: CarFinder. One of our brokers will be in touch with you about the vehicle you want, to see if you need any further assistance finding the perfect vehicle specific to your needs. You will also be offered help with financing if needed, and in fact, to obtain practically guaranteed pre-approval just fill out the easy credit application here online. Our broker will also be able to help you get behind the wheel of any vehicle you may want to test drive, and if you like it, take it home with you and park it in your driveway! Plus, Auto 1 is here for you after your purchase as well, with our Service Department. Any time you need routine maintenance or any other type of repairs on your vehicle, we have a full-service garage and repair shop complete with professional, well trained mechanics who are experienced and honest. We have a beautiful, newly renovated lounge and waiting area with all the amenities and refreshments to keep you content and comfortable while you wait. And if your service takes more than 2 hours, we offer you a complimentary loaner vehicle for the day, at no extra cost to you! So if you're looking for a Colorado Springs Toyota, or any other used vehicle, try Auto 1 first.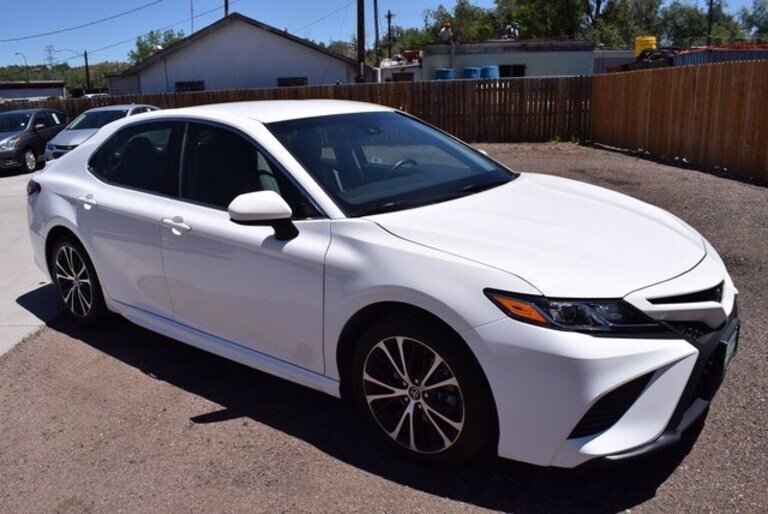 Toyota History & Facts 
Toyota Motor Corporation was founded as an independent company by Kiichiro Toyoda back in 1937 in Japan. Kiichiro is the son of the man who owned Toyota Industries, and originally started in a division for making automobiles under his direction at his father's company in 1933. His father, Sakichi Toyoda, invented the Toyoda Model G Automatic Loom, and was the owner of Toyoda Automatic Loom Works. The Japanese government supported the company and did not allow their American competitors from Ford or General Motors to import their vehicles into Japan. Because of the strict tariffs on imported vehicles that the United States charged starting in the early 1960s, Toyota, Nissan and Honda started building plants in the U.S. by the early 1980s. Toyota began acquiring new brands by the end of the '80s, and now sells under 5 different brand names: Toyota, Hino, Lexus, Ranz, and Daihatsu. They also have shares in Subaru, Isuzu, Mazda and Suzuki. Today, Toyota Motor Corporation is the 2nd largest automobile manufacturer in the world, and the 1st largest in Japan. It was the 10th largest company in the world by revenue in 2019. Perhaps a lot of this has to do with the fact that 80% of Toyotas that are 20 years old or more, are still on the road today. Amazing!  
Some Terrific Used Models By Toyota 
If you're looking for a sedan, the Toyota Avalon, especially from the years 2009 through 2014, is a great choice for the money. It is a V6 with plenty of power, good gas mileage, reliability and affordability. If you want a minivan, the Toyota Sienna from 2009 to 2014 rates highest. A V6 with power, a smart design, comfortability and proven reliability, this used family vehicle is a fantastic choice by Toyota. If you're looking at hybrid vehicles, the Toyota Prius is the perfect midsize car in this department. It offers plenty of space and cargo room, great features, fuel economy that can't be beat, and dependability like only a Toyota can provide, the years 2010 through 2014 Prius are a very smart choice. For a great used midsize SUV, the Toyota Highlander Hybrid, especially years 2009 and 2010, is an excellent choice. You get safety, fuel economy and reliability all in one, plus a smooth, quiet ride and a well-designed powertrain. Great used price, as well. Or how about the Toyota Venza, for a station wagon-type car? From 2009 to 2012, the Venza gives you safety, reliability, comfortability and fuel efficiency. It's also been highly rated for both 4-cylinder and V6 engine types. And of course, we can't forget the Toyota Camry and Camry Hybrid, especially the years from 2009-2014, are unlikely to disappoint you. Either the regular Camry or the Hybrid are both incredibly dependable, get excellent gas mileage, and have top-rated safety and performance scores. You really can't go wrong with a Toyota Camry. When you need a pickup truck, the Toyota Tacoma years 2009-2014 rank high on the list of great used trucks. You'll get comfortable seating, good towing capabilities and acceleration with the V6 option, high quality interior, lots of great features and good gas mileage. The Tacoma is a smart choice in Toyota trucks. So if you're looking for a used vehicle in Colorado Springs, Toyota fans will love Auto 1 for the biggest selection and the lowest prices, and comprehensive services that just can't be beat. Check out our online inventory today, and speak to a broker about how we can help you. 

Also, check out our used VW Colorado Springs Inventory!