We Sell The Best Used Subarus Colorado Springs
Look No Further!
Auto 1 has the best used Subaru Colorado Springs has to offer, so look no further! No matter what kind of used vehicle you're looking for, Auto 1 in Colorado Springs is where you should be. Since we are also a supplier of the majority of inventory for many other dealerships, we have the biggest selection of the best quality used vehicles anywhere. And if we don't have it, we'll find it for you! Here at Auto 1, we understand that life is stressful enough, so we try and take the stress out of your car buying experience.  Just browse our inventory here online, and if you don't see anything you like, go to the CarFinder and fill out the short form with the details of what you want. One of our Auto1 brokers will be in touch soon, to let you know when a matching vehicle becomes available, or to help you determine the best used vehicle for your specific needs. If you need assistance with financing the vehicle you want, we can help you with that, too. If your credit has issues, that's no problem either. We work with all situations here at Auto 1, and even have a credit restoration specialist to help you if necessary. We work with multiple different credit unions, as they tend to have lower rates and better service. Plus they're more willing and experienced in dealing with people who have had some problems in the past. In fact, to obtain a practically guaranteed pre-approval, just fill out a credit application here online. If you have a vehicle you want to trade-in, we have professional appraisers on-site, or you can use our online tool for an approximate quote on the value of your trade-in. You can easily double-check the numbers with the current Kelley Blue Book. We will give you the best, fairest price for your vehicle. When we price our own vehicles, we tag them at the lowest price possible for you, right from the start. This eliminates the need for back and forth negotiating, further reducing stress. And Auto 1 is here for you after you've made your purchase, as well, with our terrific Service Department. Our full service garage houses our highly trained, professional mechanics who are ready to perform routine maintenance or any other type of repairs you may need. You can wait while your vehicle is serviced in our newly remodeled lounge area, with plenty of amenities and refreshments you'll love. If your service takes more than 2 hours, we offer you a complimentary loaner vehicle for the day at no extra cost to you. So when you're looking for the best used Subaru, Colorado Springs uses Auto 1.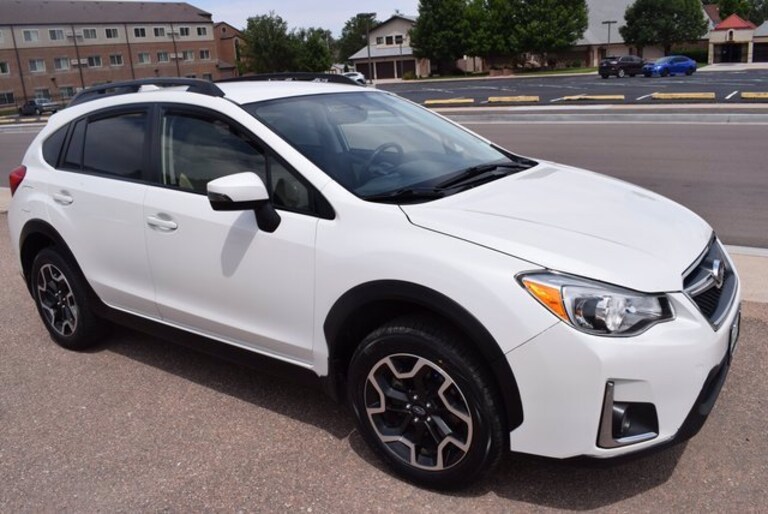 Subaru History 
Subaru is the automobile manufacturing division of Japanese transportation conglomerate Subaru Corporation, founded in 1953. Subaru is the Japanese name for the Pleiades star cluster, given the name by CEO Kenji Kita. Their first vehicle was named the Subaru 1500 in 1954. Nissan acquired a 20.4% stake in Fuji Heavy Industries, Subaru's parent company, in 1968 during a period of government-ordered merging of the Japanese auto industry. The Subaru automatic transmission, known as the 4EAT, is also used in the first generation Nissan Pathfinder. Upon Nissan's acquisition by Renault, its stake in FHI was sold to General Motors in 1999. During the brief General Motors period, a badge engineered Impreza was sold in the United States as the Saab 9-2X. GM liquidated their holdings in FHI in 2005. Toyota Motors bought a little over 40% of GM's former FHI stock, and Toyota and Subaru have since collaborated on a number of projects, among them building the Toyota Camry in Subaru's Indiana U.S. plant in April 2007. Toyota increased their share of FHI to 16.5% in 2008. At that point, Toyota and Subaru jointly developed the Toyota 86 in 2012 sold first as the Subaru BRZ. Toyota sold the model under other various names. The current slogan of the Subaru in North America is "Confidence in motion". According to Automotive Lease Guide, Subaru ranked second place in vehicles that have the highest overall predicted resale values among all industry and all luxury vehicles for MY 2009. The information gathered is on the following categories; segment competition, historical vehicle performance and industry trends. Well-regarded for their offbeat combination of boxer engines and all-wheel drive, the Japanese brand's popularity has been on the rise for many years. 
Best Used Subaru Models 
Subaru is popular for standard all-wheel drive in its most popular models, excellent affordability and extreme dependability. Therefore, you can see why they're a popular choice in used vehicles. The first one we're going to discuss is the Subaru Legacy. It is a reliable and spacious sedan at an affordable cost, choose one from 2005 or after for your best value. Next is the Subaru Impreza, offering many different versions to choose from including the Impreza Sport, and a wagon version perfect for families. Practical, reliable and quick, try a mid-to-late 2000s sedan known for it's great performance and maneuverability. Next up is the Subaru WRX, with a 2.5 liter Flat 4 Boxer engine, boasting a tremendous 300 horsepower. This model is sporty and affordable, and is a favorite among Subaru enthusiasts. Any year gives you great value for your money, but try models in the 2000s for a reliable compact car that is still quite affordable. The Subaru Outback is next on the list as the most popular wagon-style vehicle in the United States, for many years now. It offers tremendous versatility, off-road capabilities and plenty of storage space. The Outback is a little more expensive, but gives you an overall performance and value you just can't beat. And for an SUV, go with the Subaru Forrester. In 2009 they redesigned the Forrester, making improvements to stability control, visibility and interior comfort without sacrificing performance. Safe and reliable, this heavy duty SUV is a great choice. Auto 1 has the highest quality used Subaru Colorado Springs has for you, so shop today!

Also, check out our used Toyota Colorado Springs Inventory!