We Sell The Best Used Nissans in Colorado Springs
Look No Further!
Sometimes things happen in our everyday lives which cause our vehicles to finally break down, or perhaps we're running late for some important event, driving in busy traffic, and we get into an accident and wreck our vehicle. In any case, suddenly we find ourselves in dire need of another vehicle. Life is stressful enough, and at Auto 1 in Colorado Springs, CO. we understand this, so we try to remove the stress from your car-buying experience. At Auto 1 we have the biggest selection of the highest quality used vehicles around. This is because we also are a major supplier for many other dealerships, both local as well as outside the area, of a large part of their inventories, as well. Only the best used vehicles end up on our lot here at Auto 1 in Colorado Springs. Just browse our inventory right here, and if you don't see what you're looking for or anything you like, simply click on the CarFinder and fill out the short form with the details of what you want and primarily what you'll be using it for, and we will assist you with the next step towards ownership. Need financing and have some credit problems in your past? That's fine, we work with all kinds of situations here at Auto 1. We utilize several different credit unions, as they tend to have lower rates and better service, and are more willing and experienced in dealing with people who have had some problems in the past. In fact, to obtain a practically guaranteed pre-approval, just fill out the easy credit application online. Do you have a vehicle you want to use as a trade-in? If so, we have professional appraisers on-site, or you can use our online tool for an estimate of what the fair market value is for your vehicle. The current Kelley Blue Book can also be used to check numbers on value. Rest assured, we will give you the best fair price possible for your trade-in. Auto 1 is even here for you after any purchase as well, with our incredible Service Department. We have professional well-trained mechanics in our full service garage, ready to perform routine maintenance or any other type of repairs you may need. You can wait while your car is serviced in our newly remodeled lounge area, with lots of amenities and refreshments you'll love. If your service takes more than 2 hours, we will provide you with a complimentary loaner vehicle for the day, at no extra cost to you! So why would you ever want to use anywhere else to find your next vehicle?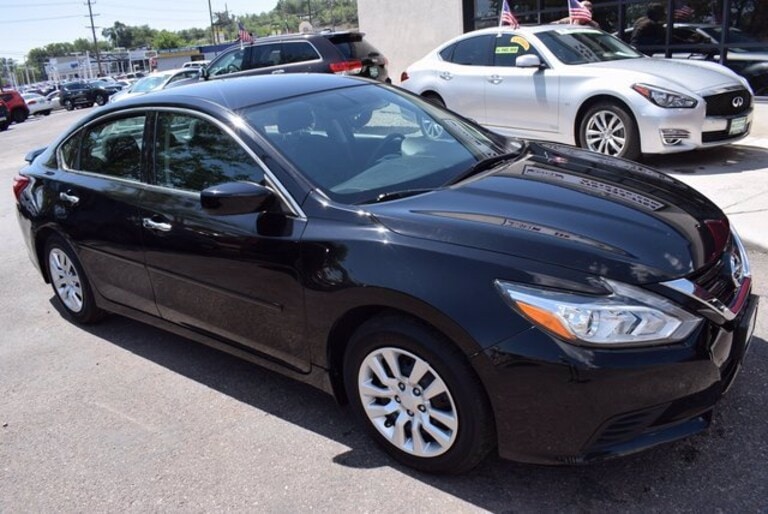 Nissan History & Interesting Facts
Nissan Motor Company was founded by Masujiro Hashimoto in 1933 in Japan, and sells its vehicles under Nissan, Infiniti, and Datsun brands, with in-house performance tuning products labelled Nismo. Since 1999, Nissan has been part of the Renault-Nissan-Mitsubishi Alliance, with Mitsubishi joining in 2016. In 2013, Nissan was the sixth largest automaker in the world, and the leading Japanese brand in China, Russia and Mexico. In 2014, Nissan was the largest car manufacturer in North America, and is the world's largest electric vehicle (EV) manufacturer. In January 2018, Nissan CEO Hiroto Saikawa announced that all Infiniti vehicles launched from 2021 will be hybrid vehicles or all-electric vehicles. Nissan used to have a booming aerospace industry. They designed and developed engines for the Lambda 4S-5 spacecraft, which launched Japan's first-ever satellite, called OHSUMI. Probably Nissan's best [sports] car ever is the Skyline GT-R, and most people aren't aware of the fact that it was actually made back in 1957 by another company called Prince. In the 1960s, Nissan and Prince merged, doing away with the Prince name in the process and forever leaving it remembered as Nissan's. The Skyline GT-R has also been dubbed the ultimate Japanese supercar, and is one of the highest ranking Nissan models ever made. Japan held its first motorsport competition, the All-Japan Automobile Competition in 1936. Datsun entered the race with an NL-75, which had a supercharged DOHC engine, quite the new idea for that time period. Needless to say, Datsun won the race, which gave birth to Nissan's illustrious racing history. Datsun officially changed its name to Nissan in 1986 for several reasons, mainly to make marketing easier and to make it less confusing to consumers. The top-performing engines of Nissan's Nismo brand are all hand-built by four master engineers, each piece formed and placed by hand separately.
Best Used Nissan Models
The Nissan Altima, known for its high-quality, comfortable interior and smooth ride, the five-seat Altima retains good value over time and the 2012 as well as the 2014 ranks highest overall, for strong off-the-line acceleration, superb handling, relatively upscale interior, and good fuel economy. Next is the Nissan Cube, particularly the 2012. It has a copious amount of cargo space and generous cabin area for passengers. The wraparound window design brings plenty of natural light, it also has an EPA rating of 27 mpg in the city and 31 mpg on the highway. The Nissan Maxima is next, with an upscale vibe and an emphasis on performance and comfort. Powerful engine and NASA-inspired "zero-gravity" seats add to its comfortability and long-lasting quality. Then we have the Nissan Leaf, which is an electric model. The Leaf is the most popular all-electric car in history, providing a reliable 80 or so miles of driving range on a single charge. It is an easily maneuverable hatchback, better for city driving than long commutes or trips. It has great torque, providing a spirited drive in the city, and can be recharged using a 240-volt charging station, which adds about 25 miles of range per hour. The 2012 ranks highest overall. Last but not least is the Nissan Murano, a crossover SUV known for its ample power and upscale interior. 2012 and 2013 were it's best years, the '12 for its powertrain and performance, and the '13 for its better fuel economy. Regardless of what your particular needs are, you can find the best Nissan Colorado Springs, CO. has to offer you at Auto 1, today.

Also, check out our used Subaru Colorado Springs inventory!