We Sell The Best Used Mazdas in Colorado Springs! 
Look No Further!
You may be on a quest to find a great quality, pre-owned Colorado Springs Mazda, and if so, look no further! Here at Auto 1 in Colorado Springs, CO. we supply multiple dealerships, both in the area and out, with a large part of their inventory in addition to our own, so we have the biggest selection of high quality used vehicles anywhere. We try to have everything you may need in one spot, when purchasing a vehicle. We understand that life is stressful enough, without having to worry about being able to get where you need to go. When you find yourself in need of a good used vehicle, simply browse our inventory here online. If you don't see what you're looking for, or can't find anything you like, click on CarFinder and fill out the short form. whose sole purpose is to help you get behind the wheel of the vehicle you want and take it home, today! One of these  brokers will be in touch soon, to notify you that a matching vehicle has become available, or to assist you in finding the perfect used vehicle specific to your needs. If you have a used vehicle you would like to use as a trade-in, we have professional appraisers on-site to make you a fair offer. You can also use our online tool to get an approximate quote on the value of your trade-in, and you can double-check the numbers easily enough with a current Kelley Blue Book. Rest assured we will give you the best fair current market price possible for your trade-in. We use Smart Market Pricing when tagging our own vehicles, and mark them the lowest fair price we'll take, right from the start. This eliminates the need for back and forth negotiating, removing another possible source of stress. If you need help with financing but have some credit issues in your past, that's no problem. We work with all situations, here at Auto 1, and utilize multiple different credit unions as they have lower rates and better service. We even have a credit restoration specialist on-site to help you, should it become necessary. In fact, to obtain a practically guaranteed pre-approval, just fill out the credit application here online. So contact Auto 1 today, to find out about the awesome Colorado Springs Mazda we have, for you! And don't forget, we're here for you after your purchase as well, with our amazing Service Department. Our experienced, professional, highly-skilled mechanics work 6 days a week in our full-service garage, ready to perform routine maintenance or any other type of repairs you may need in the future. You can wait for your car to be serviced in our newly remodeled lounge area, with lots of amenities and refreshments you will love. If your service takes more than 2 hours, we offer you a complimentary loaner vehicle for the day, at no extra cost to you! So what are you waiting for?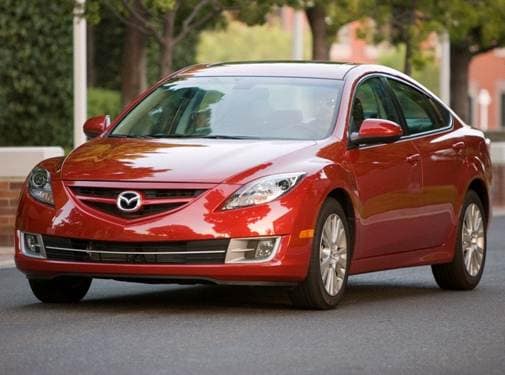 Mazda History & Facts
Mazda Motor Corporation is a Japanese automobile manufacturer founded by Jujiro Matsuda in 1920. But it wasn't until 1970 that Mazda formally entered the American market. Mazda's first vehicle was a 3-wheeled truck called a "Mazda-Go" back in 1931. Here's a couple of fascinating facts about Mazda. It's original and main headquarters were (and are) in Hiroshima, Japan, and yet the atomic bomb we dropped on them during World War 2 left them, as well as their factory, virtually unscathed. A mountain stood between them and the hypocenter of the blast, protecting them. The other odd thing about this entire story, is that it happened on the founder's birthday! The bomb was dropped on Jujiro Matsuda's birthday, and exploded 50 yards from the barber shop he had just left. He was almost back to the Mazda headquarters when the event occurred. The shockwave ejected him from the car he was in, but he survived. Because of this, for about a year after the atomic bomb was dropped on Hiroshima, Mazda provided portions of its corporate facilities to the Hiroshima Prefectural government, the local court, and NHK Hiroshima Broadcasting. For this period, Mazda was the center of government in Hiroshima. Mazda developed the world's first Miller-cycle engine for practical automotive use. This type of engine was first used in ships, stationary power-generating plants, and some trains. The main difference is that Miller-cycle engines depend on a.supercharger and they tend to be more efficient than normal engines. In 2015, Mazda and Toyota announced their new long-term partnership. The companies joined forces to collaborate on products, manufacturing and technologies. Most recently, the Mazda6, Mazda3 and Mazda CX-5 each were named a 2016 IIHS Top Safety Pick and also named "Top Rated Vehicles" by Edmunds. Mazda was named the 2016 Best Car Brand by U.S. News & World Report.
Best Used Mazda Models
Let's go over some of the best used Colorado Springs Mazda models you can find to buy. First off, the Mazda Miata is one of the best little 2-seater cars ever made, and practically any year is good. From 2005 on up in particular are terrific choices, and the 2010 model being top-ranked for the all around best used sports car for under $20,000. These small wonders get excellent gas mileage too, so if you want popularity, affordability and reliability with rear-wheel drive, good performance and handling and a fun, sporty design, the Miata is the way to go. Next is the Mazda CX-7, 2009 and above. For a more family-oriented vehicle that seats 5, this compact SUV is affordable, handles well and packs some punch with its 244 horsepower, 4-cylinder engine and standard all-wheel drive, it ranks high on the list of used compact SUVs under $15,000. 2009 versions can be found for under $10,000, so the CX-7 is more than reasonable for what you get. The Mazda3 is next, a 5-seat, front-wheel drive hatchback with outstanding performance, a stylish interior, good safety scores and 25 to 33 miles per gallon on the highway, depending on the engine. 2010 is the best year for the highest ranked, but still awesome in any year since, and under $10,000. Remember Auto 1, the next time you're looking for the best Colorado Springs Mazda in town!

Also check out our used Mini Coopers in Colorado Springs!