We Sell The Best Used Lincolns in Colorado Springs
Look No Further!
Here at Auto 1 in Colorado Springs we understand that life is stressful enough, without adding buying a used vehicle to the list! Therefore, we try to make your car buying experience stress-free. Auto 1 has the biggest selection of the highest quality used vehicles around. Just browse our inventory here online, and if you don't see what you're looking for or can't find anything you like, simply click on the CarFinder. Fill out the short form with the details of what you want and primarily what you'll be using it for, and an agent will be in touch with you soon. They will let you know when a matching vehicle becomes available, or assist you in finding the absolute perfect vehicle according to your specific needs. So if we don't have it, let us find it for you! If you have a vehicle you'd like to use as a trade-in, we are always happy to accept it, and have professional appraisers on-site. You can also use our online tool to get an approximate estimate for the value of your trade-in. Numbers can be easily double-checked by looking at a current Kelley Blue Book. Rest assured we will give you the best fair price possible for your trade-in vehicle, here at Auto 1. If you need assistance with financing for the vehicle you want but have had some credit issues in the past, no worries! We work with all situations here at Auto 1, and we even have a credit restoration specialist on-site, to help you when necessary. We utilize multiple different credit unions, as they tend to have lower rates and better service, plus are generally more willing to work with people who have had some problems in their past. To obtain a practically guaranteed pre-approval for financing, just fill out the credit application here online. Our agents can also help to guide you through this easy process. And Auto 1 is also here for you after any purchase, with our amazing Service Department. Our full service garage and professional, well trained mechanics are ready and waiting for you to perform routine maintenance or any other type of repairs you may need in the future. You can wait while your car is serviced in our newly remodeled lounge area, with plenty of amenities and refreshments you will love. And if your service takes more than 2 hours, we offer you a complimentary loaner vehicle for the day, at no extra cost to you! So why would you go anywhere else, when the best Used Lincoln Colorado Springs has to offer can be found right here at Auto 1?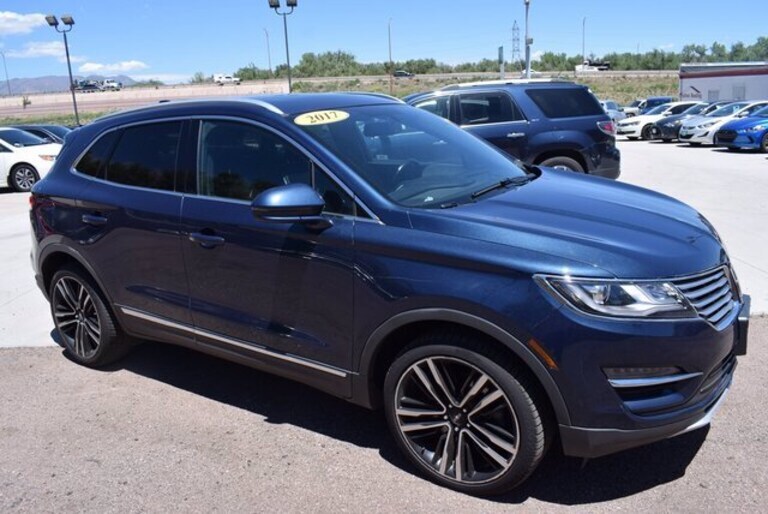 Lincoln History & Facts
Lincoln Motor Company is the luxury vehicle division of Ford Motor Company, founded by Henry M. Leland in 1917. Originally founded as a freestanding division above Lincoln, Continental was integrated within Lincoln in 1959. For 1969, the Continental-branded Mark series was marketed through Lincoln, adopting the Lincoln name for 1986. The current product range of Lincoln consists of luxury sedans, crossovers, and sport-utility vehicles. In 1920, Lincoln Motor Company produced its first automobile, the Lincoln Model L. Under the influence of Edsel Ford, Lincoln Motor Company was purchased by Henry Ford for $8 million in 1922. The purchase of Lincoln created a stand-alone luxury vehicle brand for Ford, as Cadillac did for GM. In 1924, a Lincoln Model L becomes the first state limousine used by a U.S. President on an official basis, supplied for Calvin Coolidge. In 1932, Lincoln introduced its first "multi-cylinder" engine, introducing a V12 engine for the Model K. In the next year, the V8 was retired, making Lincoln the first manufacturer in the world to produce vehicles exclusively with V12 engines. The Lincoln Continental came out to the public in 1940, with the first vehicle received by Mickey Rooney. It was introduced as a Lincoln-Zephyr production model in that year. During the war, Lincoln stopped production as with all U.S. auto manufacturers. In 1946, Lincoln returned to production, ending the use of the Zephyr name. For the 1956 model year, Ford created the Continental Division, slotted above Lincoln as the flagship make of Ford Motor Company. In 1956, the Continental Division was integrated into Lincoln. The 1967 Lincoln Continental Convertible is the heaviest non-limousine car ever produced by Ford Motor Company; as of 2018, it is the final factory-produced four-door convertible sold in North America.
Best Used Lincolns
Lincoln is of course known for its high quality, producing stylish, technologically advanced and elegant vehicles, particularly its sedans. We will discuss the top few best makes, starting with the Lincoln LS, years 2000-2006. A smaller, rear-wheel drive car that offers impressive power and good driving dynamics. From 2000-2002, the V6 engine is 210 horsepower, and the V-8 engine is 252 horsepower, with 267 lb-ft of torque. In 2003, the V-6 jumps to 232 horsepower and the V-8  jumps to 280 horsepower and 286 lb-ft of torque. Heated and cooled leather seats, automatic climate management and an intuitive set of gauges and vehicle controls make the Lincoln LS a pleasure to drive. Next is the iconic Lincoln Town Car, years 2003-2007. A 239 horsepower, 4.6-liter V-8 is the only option, paired with a 4-speed automatic transmission. It is a big, comfortable used sedan that doesn't pretend to offer anything other than a solid and safe luxury ride, making it a good choice for families. Last but not least is the 2006 - 2007 Lincoln Zephyr / MKZ, or simply the MKZ, the most modern sedan available from Lincoln on the used market. With features like leather seats, a voice-enabled navigation system, surround sound entertainment and heating and cooling for the front bucket seats, this model becomes very attractive, very quickly! No matter which Lincoln Colorado Springs dealerships have to offer, Auto 1 can help you find it and secure it today.

Also check out our inventory of used Mazda's in Colorado Springs!