We Sell The Best Used Kias in Colorado Springs! 
Look No Further!
We here at Auto 1 in Colorado Springs believe that life is stressful enough as it is, so we try to make your used car buying experience stress-free. To do that, we have everything you need to accomplish this in one spot. We have one of the biggest selections anywhere, plus we are a major supplier of inventory for many other dealerships as well. Therefore, browse our inventory here online, but if you don't see what you're looking for, click on the CarFinder and fill out the short, easy form with the details. We will find a matching vehicle and let you know as soon as it's available. And if you need financing for your vehicle, that's no problem either, even if you've had some credit issues in the past. In fact, to obtain an almost guaranteed pre-approval, fill out the credit application online. We work with multiple different credit unions, because they have lower rates and better service. Plus they're more willing and experienced in dealing with people who have had some problems with their credit. You can request to speak with one of these brokers at any time, and they will help you get behind the wheel of the vehicle you want, today! Our Smart Market Pricing ability ensures that you will only pay what your vehicle is worth, which is the fairest and lowest price out there. This eliminates the need for back and forth negotiating, right from the start. We will also give you the best price for any trade-in vehicle you may have, and we are always looking for new ones. Plus, we're here for you after any purchase as well, with our competent Service Department. You can book an appointment 6 days a week for any routine maintenance or other repairs you may need. Our newly remodeled lounge area has plenty of amenities and refreshments you'll love, and if your service takes more than 2 hours, we will provide you with a complimentary loaner vehicle for the day at no extra cost to you! So when you're looking for a used Kia, Colorado Springs uses Auto 1. That also goes for any other brand vehicle! Now, let's talk more about Kias..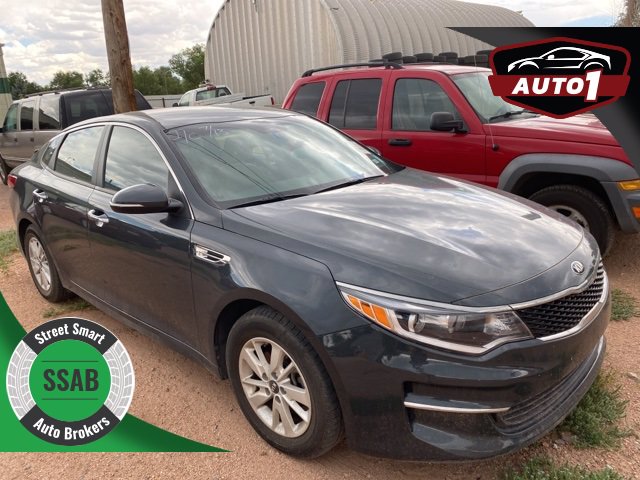 Kia History & Facts 
Kia Motors Corporation is a South Korean automobile manufacturer established in 1944. They originally produced bicycles, and then began making Honda-licensed motorcycles. Soon they also made Mazda-licensed trucks and cars. They finally opened their first integrated automotive assembly plant in 1973. In 1981, Kia was forced to focus on light truck production only, due to the new military dictator enforcing industry consolidation. In 1986, Kia rejoined the automobile industry in partnership with Ford. And in 1992, they incorporated in the United States as Kia Motors America. By 1995, Kia had over 100 dealerships across 30 states. But in 1997, Kia filed bankruptcy due to the Asian financial crisis. In order to diversify, Kia reached an agreement with Hyundai in 1998 to exchange ownership. So while Hyundai owns 51% of the Kia Motor Company, Kia retains ownership in about 22 different subsidiaries of the Hyundai Motor Company. And in 2016, J.D. Power and Associates ranked Kia first in the United States on model reliability, the first non-luxury car maker to make that list since 1989, over 30 years ago. 
Used Kia Models & Facts 
A big reason for Kia's growing popularity in the United States is due to their 10-year/100,000 mile fully transferable warranty. This means that unlike most brands, this top-rated warranty fully transfers from the original owner to the second owner. Even most of the best warranties from other automobile manufacturers aren't fully transferable; they usually change significantly after the original owner sells. This gives the Kia a special guarantee to be a very reliable used vehicle to buy. But after that, the next owners are not covered under this. However, this is still quite significant in stating their faith in their product. Plus, there are still tons of certified pre-owned Kias with extended powertrain warranties out there, and most likely, you aren't going to need much. So which models are best? The Kia Soul is a great used model. From 2010 to 2013 is 1st generation, and you get a unique design that's instantly recognizable and plenty of room and cargo space, in a compact hatchback family car. In 2013, they added Bluetooth connectivity and steering wheel mounted audio controls. In 2014, it was completely redesigned with a roomier interior and better seats, plus an increased cargo space area from 53.4 cubic feet to 61.3 cubic feet. Next, the 3rd generation Kia Rio is a more conventional compact car, but still has a stylish design that will turn heads. The 2014 model is a top-rated used compact hatch, with easy to use controls and awesome standard features like Satellite radio, USB and standard auxiliary outlets and steering wheel mounted audio controls, plus excellent optional features as well. Next is the Kia Forte, with handsome style and small car practicality. It's got plenty of room and cargo space, great standard features, high safety ratings and a well-made interior. For a sophisticated crossover vehicle, go with the Kia Sportage. They are fun, practical and safe, and have a stylish design with a well equipped interior. Or if you want a minivan, there's the Kia Sedona. Spacious, affordable, practical and safe, this Kia minivan is a perfect choice for the growing family that wants to go with something that has a reasonable price tag over luxury and extras. The Kia Cadenza is a sedan with style as well as substance, offering a near-luxury automobile complete with handsome style, spacious seating, top quality interior, and smooth handling. Any of these Kias are excellent choices in used vehicles, as they are dependable and affordable. So if you are looking for a Colorado Springs Kia, the best used Kias can be found at Auto 1.

Looking for a Used Lexus in Colorado Springs? Check out our inventory.