We Sell The Best Used Jeeps in Colorado Springs 
Look No Further!
We believe that life is stressful enough, so here at Auto 1 in Colorado Springs, our goal is to take the stress out of your used car buying experience. To do this, we have everything you need to actually get the vehicle you want and drive it home, in one spot. We also supply many local dealerships with the majority of their inventory, so we have the biggest selection of high quality used vehicles around. Browse our inventory here online, but if you don't see anything you like, click on the CarFinder and fill out the short form with the details. As soon as a matching vehicle becomes available, one of our Auto1 brokers will get in touch with you. The goal is to find you the vehicle you need, get you behind the wheel and if you love it, then watch you drive it home. We have professional appraisers on-site, and we encourage you to double-check numbers and values online, or in the Kelley Blue Book, plus we have a tool online you can use if you like. We need your trade-in and will give you the best fair price for it. Also, we use Smart Market Pricing to sell our own vehicles, and start them at the one fair price we declare. This eliminates the need for back and forth negotiating, right from the start. If you need help with financing your vehicle, we work with multiple credit unions because they tend to have lower rates and better service, not to mention their willingness and experience in dealing with people who have had some problems in the past. We work with all situations at Auto 1. If you want to obtain a practically guaranteed pre-approval for financing, just fill out the credit application here online. Plus, Auto 1 is also here for you after any purchase, with our Service Department. A full-size garage with professional, trained mechanics are ready to perform routine maintenance or any other type of repairs you may need. Just book an appointment ahead of time, 6 days a week. You can wait while we service your car if you like, in our newly remodeled lounge area with lots of amenities and refreshments you will love. And if your service takes more than 2 hours, we offer you a complimentary loaner vehicle for the day, at no extra cost to you. If you've been looking for used Jeeps, Colorado Springs uses Auto 1 to find the best ones.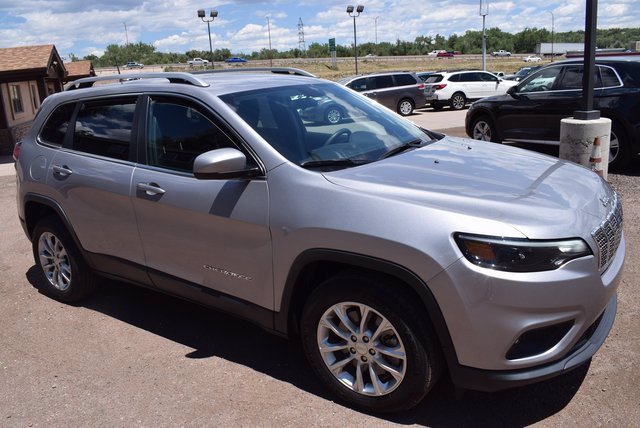 History Of The Jeep Brand 
The Jeep goes back to 1945 with the Willys-Overland models, but even earlier in 1941 the "World War 2 Jeep" was a light military 4X4 which looked suspiciously like today's SUVs. For the United States Army and Allies during World War 2, the vehicle known as the Jeep was a valuable item. But in 1945, Willys-Overland launched production of its Civilian Jeep or CJ model. The Jeep Wrangler has been in production since 1986, and with its solid axles and open top, the Wrangler has been called; "the Jeep model that is as central to the brand's identity as the rear-engined 911 is to Porsche." At least 3 generations of production  runs on the same Jeep were produced for no less than 2 different models, with a single body generation. 
Other Cool Jeep History 
The Jeep brand is forever linked to freedom, adventure, authenticity and passion. Their slogan; "go anywhere, do anything" is perfect for the iconic brand. In the 1940s, the Jeep 4X4 all-terrain vehicle became available to the public in the first CJ (Civilian Jeep) model. In the 1950s, the Jeep Jamboree came out, with 7 different models for a small family recreational vehicle/pickup truck-like vehicle mix. They enjoyed huge popularity. In the 1960s, the all new Jeep Wagoneer with 14 different models came out. This near-luxury family vehicle had prestige and individuality, and was made for work, play, recreation and luxuriously capable transportation. In the 1970s, the Jeep Cherokee was introduced, with 6 different models, taking the 4 X 4 Of The Year Award. In the 1980s came the All-New Jeep Cherokee XJ, with many "firsts", like the first compact 4-door SUV, first UniFrame construction, and first full-time 4x4 system with shift-on-the-fly capability. In the 1990s, the All-New Jeep Grand Cherokee ZJ gave us its unique balance of on- and off-road capability. The super-capable Wrangler (TJ) with its new coil suspension was introduced in 1997. In 1999 the new Grand Cherokee (WJ) was marketed as the most capable SUV ever. In the 2000s, a new 4-door Jeep Wrangler took the industry by storm. The Compass and Patriot, first small cross-utility vehicles. The 2010s launched strategic All-New Grand Cherokee, Renegade and Compass vehicles.
Best Used Jeep Models 
Let's start by just saying that the Jeep brand is known for its off-road capabilities and rugged toughness, improving other qualities over the years, in some more than others. Here is a short but effective guide to the best used models. The 2011 and 2013 Jeep Grand Cherokee, with the 290 horsepower V6 and an option to upgrade to the 360-horsepower 5.7-liter Hemi V8. Pleasant ride, top-rated interior and a little better fuel economy, the Jeep Grand Cherokee is a near-luxury vehicle that can take you anywhere you want to go. The 2009 and 2010 Jeep Grand Cherokee are also smart choices. They are well mannered on the street with a comfortable ride and an upscale interior. Go with the option of the 420-horsepower 6.1-liter V8 engine, however, as the standard V6 just lacks in power what you really want. The gas mileage is terrible, but this model of Jeep won't disappoint you. Next is the 2009 and 2011 Jeep Compass, for the best fuel economy in a Jeep. The multiple options can be confusing, so look for the model with front-wheel drive, a 2.4-liter engine, and an automatic transmission, which was a CVT (continuously variable transmission) in this generation. These are just some of the top few great used Jeeps Colorado Springs has to offer, at Auto 1.

Check out our selection of used kia's in colorado springs.