We Sell The Best Used Infinitis in Colorado Springs! 
Look No Further!
If you're partial to Infinitis and in the market to buy one, then look no further than Auto 1 in Colorado Springs, CO. We are a major supplier of a large part of the inventories for many other dealerships, both local and otherwise, so we have the biggest selection of the highest quality used vehicles around. Here at Auto 1, we believe that life is stressful enough, so we try to make your car-buying experience stress-free. We have everything you need in one spot, and if we don't have what you're looking for, we'll find it for you! Just browse our inventory here online, and if you don't see what you're looking for or can't find anything you like, simply click on the CarFinder. Fill out the short form with the details of what you want and primarily what you'll be using it for, and one of our agents will be in touch with you soon. They will let you know when a matching vehicle becomes available, or to help you find the absolute perfect used vehicle according to your specific needs.  If you think you might need financing for the vehicle you want, that's no problem either. We work with several different credit unions, as they have lower rates and better service, plus are more willing and experienced in dealing with people who have had some problems in their past. We work with all types of situations here at Auto 1, and we even have a credit restoration specialist on-site to help you, if it should become necessary. So to get a practically guaranteed pre-approval for financing, just fill out the credit application here online. If you have a vehicle you want to use for a trade-in, we welcome all trade-ins and we have professional appraisers on-site to make you an offer. You can also use our online tool for an approximate estimate of what your vehicle is valued at. Rest assured, we will give you the best fair price possible for your trade-in vehicle, here at Auto 1. We are even here for our customers after any purchase, as well, with our awesome Service Department. Our full service garage is complete with our professional, experienced mechanics who are ready and waiting to perform your routine maintenance and any other type of repairs you may need in the future. You can book an appointment right here online, 6 days a week for your convenience. You can wait while your vehicle is serviced in our newly remodeled lounge area, with plenty of amenities and refreshments you will love. If your service takes more than 2 hours, we offer you a complimentary loaner vehicle for the day, at no extra cost to you! So why go anywhere else, when the best Infiniti Colorado Springs has to offer you is right here, at Auto 1?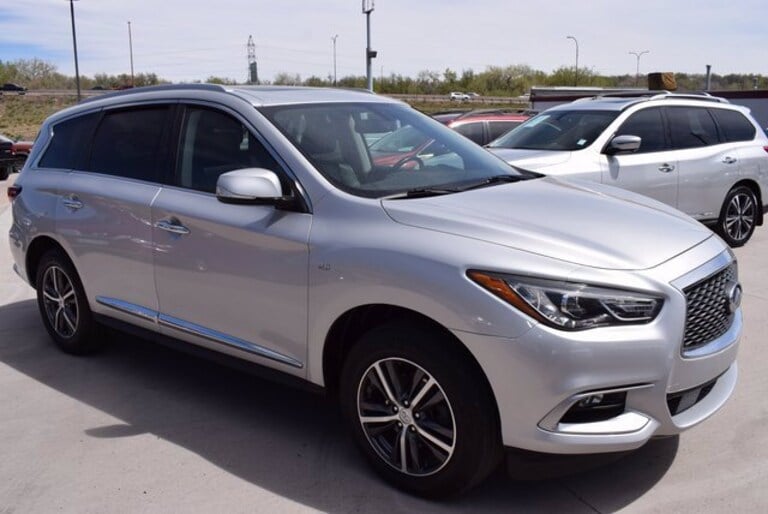 Infiniti History & Facts
Infiniti is the luxury vehicle division of the Japanese automobile manufacturer Nissan. Infiniti officially started selling vehicles in 1989, in North America. In the beginning of 2018, CEO Hiroto Saikawa announced that the Infiniti brand would be transformed into an electric brand, with all new vehicles either being hybrid or all electric by 2021. Nissan appointed Roland Krüger, former head of BMW's Asian division, as president of Infiniti in September 2014. The brand was created around the same time as Japanese rivals Toyota and Honda developed their Lexus and Acura premium brands. According to the company, the Infiniti badge has a double meaning, as stylized representations of both a road extending into the horizon and of Mount Fuji, reflecting its Japanese origins. By the mid-1990s, Infiniti was lagging behind Lexus and Acura in sales. In late 1996, Infiniti released the QX4, modifying and adding premium accommodations to the Nissan Pathfinder, becoming one of the first luxury car manufacturers to offer a midsize premium SUV. In 2000, the company rededicated itself to developing a dynamic and powerful line-up of sporty luxury cars. Although this effort began with a completely redesigned Q45 flagship for the 2002 model year in early 2001, it was the G35 that helped improve Infiniti sales by 2003. A sports sedan replacing its Nissan Primera-based predecessor (the G20), the Nissan Skyline-based Infiniti G35, was successful after it was voted Motor Trend Car of the Year in 2003. The G series helped redefine Infiniti as the "Japanese BMW", while the M35/M45 garnered acclaim from the automotive press, winning an 8-car comparison test in Car and Driver, and named the best luxury sedan by Consumer Reports.
Best Used Infiniti Models
If you love the Infiniti and what it stands for, then you probably already know what model you're looking for. But just in case, let's go over some of the best ones, and why. First off is the 2001 - 2006 Infiniti Q45.The Q45 is a long four-door luxury sedan that places a premium on driver comfort and style. Comes with a V8 engine packing 340 horsepower and 333 lb-ft of torque, with a 5-speed automatic transmission. Stability control, traction control and HID headlights are standard, as is the impressive DVD navigation system. Creature comforts available are too numerous and luxurious to mention-! Suffice it to say, the Q45 will not disappoint you in any way. Next is the 2003 - 2006 Infiniti G35. This car was designed to be large enough to challenge mid-size luxury vehicles, but priced to appeal to those looking for an entry-level premium automobile. Made with a V6 engine churning out 260 horsepower and 260 lb-ft of torque, and in 2005 it was boosted by 20 horsepower for base models and jacked up to almost 300 horsepower 6MT performance editions of the car. These editions also included sports suspension matched with a performance brake package, a combination of equipment that helped make the G35 6MT a real contender in the field of high-end sports sedans. All-wheel drive is also available on the G35x.

Check out our inventory of Used Jeeps in Colorado Springs!