We Sell The Best Used Hyundais in Colorado Springs! 
Look No Further!
Auto 1 in Colorado Springs, CO. is the place to go when looking for the best used Hyundai. We have the best and largest inventory of used cars you will find. Our professional appraisers will give you the best value for your trade-in using many different book values. When you need service for your vehicle, our Auto Care department will book you an appointment that fits your schedule easily, and our excellent trained mechanics can service most any vehicle repair necessary. And if your service lasts longer than 2 hours, we'll give you a complimentary loaner car for the day. Our brokerage department will help you find the vehicle you want as well as get you behind the wheel for a test drive. If we don't have what you're looking for, they will help you find it. Many of our cars come with a limited warranty for 100,000 miles, as we choose only the best vehicles. Since we also are the largest supplier of inventory for other dealers, you can imagine how big of a terrific selection we have. Here at Auto 1 in Colorado Springs, we have the highest quality used vehicles at the most competitive prices that you can find anywhere. Plus, we use Smart Market Pricing for our vehicles, so they are priced accurately and competitively the first time. You will find no need to haggle back and forth or negotiate a better price. Browse our online inventory today.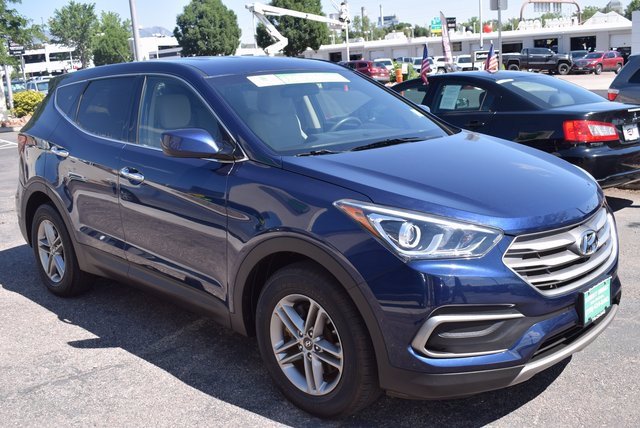 About Hyundais 
Hyundai is a South Korean company that has been established since 1967. In 1968, they teamed up with Ford Motor Company to share technology and created their first vehicle, the Cortina, in that same year. They produced their own first South Korean car in 1975 called the Pony. However, they did not have any U.S. presence until 1986. They had a rough start due to problems with vehicle reliability. Since about the new millennium, they have gained popularity in fact now are one of the top 10 car manufacturers in the world. This was all following the introduction of their 10-year warranties, eliminating any worries about vehicle reliability, on all U.S. sold vehicles. Most other companies can't compete with this. They have now earned a spot as one of the top 100 most valuable brands in the world. They issued a statement in 2014 saying; "The company intends to become a technical leader in ride and handling, producing vehicles that lead their respective segments for driver engagement." Clearly, the Hyundai aims to further improve its vehicles and image, as well. Let's talk a little about the different models when looking for the best Hyundai Colorado Springs has to offer.
Different Hyundai Models And Facts
If you have your heart set on buying a Hyundai, you should know certain facts about the many different models, so you can make a better informed and educated decision. We'll start with the Elantra, a midsize sedan that has been a best-seller practically since its production in 1990. It is a very practical and dependable vehicle that is also extremely well priced. In 2020, the Elantra SE was priced at $17,200 brand new, while the Elantra Sport is $21,800. Then there is the Hyundai Genesis, a luxury car priced lower than other similar luxury vehicles. They make 3 different models, the G-70, G-80 and G-90, and the G-70 won the 2019 North American Car Of The Year Award, competing against BMW, Audi, Jaguar, Mercedes-Benz and others. This prestigious award is judged in segment leadership, innovation, design, safety, handling, driver satisfaction and value for the dollar. The Hyundai Accent is the most affordable subcompact car they make, released in 1994. It is now on its 5th generation of versions. It is a very good value overall for the money, with brand new models priced at under $14,500. If you're looking for a small SUV, the Hyundai Kona is a great choice. It won the 2019 Utility Vehicle Of The Year, and represents quality and value. When looking at SUVs, the Hyundai Santa Fe is also a terrific choice at less than $26,000 brand new. What's really amazing about Hyundais are their high quality products and features at much more affordable prices. They even compete by making hybrids and electric models that are efficient and last longer than most, such as the Sonata plug-in hybrid, which has style, luxury and efficiency in one, and gets up to 39mpg on the highway. There's also the Kona EV, an all-electric subcompact SUV with aerodynamic style and instant acceleration, along with a range of 250 miles on a single charge. All in all, Hyundai has really made a name for itself in making extremely high quality cars and vehicles for much less money. When buying a used Hyundai, we have the best selection at the best values around.
The Hyundai Warranty And More
One of the best things about buying a Hyundai is the practically unbeatable warranties that come with these excellent values on vehicles. Some of the details change if you're not the original owner, but even used Hyundais are covered an amazingly long amount of time, especially when compared to what other automobile companies offer. Their warranty is so great it even has its own name: "Assurance". If you're buying a used Hyundai, you're still covered under the New Vehicle Limited Warranty for the powertrain for 5 years or 60,000 miles that covers the engine and transmission components of the Hyundai. They also come with a transferable 5-year/60,000 mile limited bumper-to-bumper warranty with very few exceptions, a 7-year unlimited miles anti-perforation warranty for any corrosion in the sheet metal used in the body of their vehicles, and a 5-year unlimited miles 24/7 roadside assistance warranty that includes towing to the nearest Hyundai dealership, jump starts, flat tires, lockout services and even gas delivery. These are just the top few featured, as they truly have one of the best warranty coverage of any car or vehicle out there. Obviously, the Hyundai Colorado Springs used vehicles are a fantastic choice, so check out our inventory online today at Auto 1. Remember, if we don't have it, we will find it for you.

Also check out our Inventory Used Infiniti in Colorado Springs!