We Sell The Best Used GMC's in Colorado Springs 
Look No Further!
Whatever type of vehicle you've been looking for, we sell all the best brands. If GMCs are your thing, the best used GMC Colorado Springs has to offer can be found here at Auto 1. So look no further; if we don't have it, we will find it for you! We also supply many other dealerships in the area with a large part of their inventory, so we have the biggest selection of the highest quality used vehicles anywhere. Our founder, Mark Weida, started Auto1, whose sole purpose is to help you get behind the wheel of the vehicle you want and drive it home. Browse our inventory online, and if you don't see what you're looking for then click on the CarFinder and fill out the short form. One of our Auto1 brokers will be in touch soon, to let you know when a matching vehicle becomes available, or to help you find the perfect vehicle according to your specific needs. And if you have a vehicle you would like to use for a trade-in, we have professional appraisers on-site. You can also use our online tool to get an approximate quote on what your vehicle is worth. Numbers can be double-checked easily enough by looking at the current Kelley Blue Book. We will give you the absolute best fair price possible. We also use Smart Market Pricing when pricing our vehicles for you, and tagging them at the lowest price we can, right from the start. This eliminates the need for back and forth negotiating. If you need assistance with financing for the vehicle you want but have had some credit issues in the past, we can help you with that, too. We work with all situations here at Auto 1 in Colorado Springs, and even have a credit restoration specialist to help you if necessary. We work with multiple different credit unions, as they have lower rates and better service. They're also more experienced and willing to work with people who have had problems in the past. Auto 1 is even here for you after any purchase with our amazing Service Department. We have a full service garage and professional, trained mechanics ready to perform your routine maintenance or any other type of repairs you may need. You can wait for your car to be serviced in our newly remodeled lounge area, with lots of amenities and refreshments you will love. And if your service takes more than 2 hours, we offer you a complimentary loaner vehicle for the day, at no extra cost to you. So when you're searching for the best used GMC, Colorado Springs uses Auto 1 for all their car buying needs.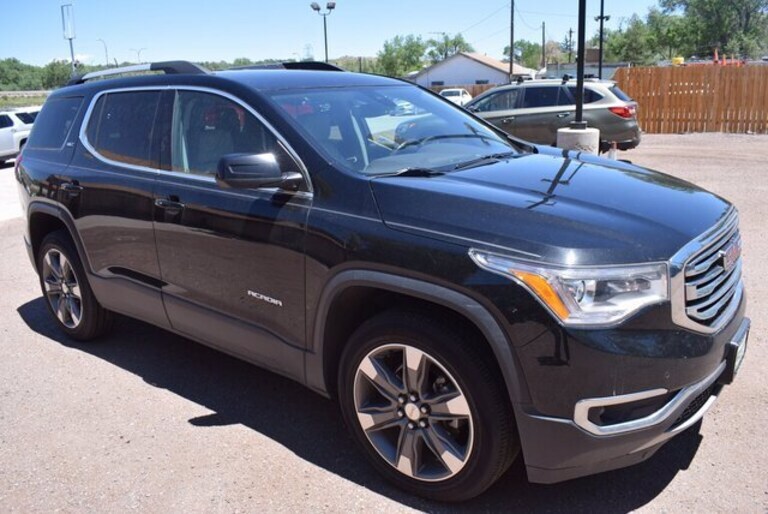 GMC History
GMC traces its history to the 1902 founding of the Rapid Motor Vehicle Company. In 1909 William C. Durant gained control of Rapid Motor Vehicle Company and made it a subsidiary of his General Motors Company. Then in 1911 General Motors formed the General Motors Truck Company. During the Second World War, GMC Truck produced 600,000 trucks for use by the U.S. Army. In 1925, GM purchased a controlling interest in Yellow Coach, a bus and taxicab manufacturer. But GM withdrew from the bus and coach market because of increased competition in the late 1970s and 1980s. In 1981, GMC Truck & Coach Division became part of GM Worldwide Truck & Bus Group. Bus production ended in May 1987 and the division name was changed from GMC Truck & Coach to GMC Truck Division. In 1996, GM merged GMC Truck Division with the Pontiac Motor Division in order to "give the combined division a brand image projecting physical power and outdoor activity". In 1998, GMC's official branding on vehicles was shortened from "GMC Truck" to simply "GMC". This enabled them to offer both trucks and entry-to-mid-level cars. In 2002, GMC celebrated its 100th anniversary. In 2007, GMC introduced the Acadia, a crossover SUV, which was the division's first unibody vehicle. In 2009, GMC ended production of medium-duty commercial trucks after over 100 years. GMC currently makes SUVs, pickup trucks, vans and light-duty trucks, catered to a premium-based market. On January 30, 2020, General Motors released a series of short teaser videos revealing the return of the Hummer, supposedly to be unveiled in late 2021. It has a 1000 horsepower engine that goes from 0 to 60 in 3 seconds and is electric, a pickup truck and an SUV.
Best Used GMC Models
Keep in mind that most of the cars produced by GMC are essentially Chevrolets under a different name. You can pretty much interchange the two. First on the list is the Suburban, changing its name in 2000 to the GMC Yukon XL, an easy pick for the best car that GMC (and Chevrolet) ever made. Solid, reliable and good performance, this is one of the best SUVs you can buy, and any year is good. Next up is the GMC Acadia, from 2007 on. Great crossover SUV with powerful V6, superb functionality and spacious seating for 8, plus reliable with little maintenance issues. Then we have the GMC Sierra, a medium to heavy duty truck that's about as dependable as they get. Plenty of power and good performance, and many different features available. This is a solid truck since the year it came out in 1999, and in 2014 had some terrific upgrades. Next up is the GMC Savana, if you happen to be looking for a full size van. It is one of the most reliable vans on the road, ranked high for its versatility and ability. With one of these, you can haul cargo, transport people, and handle any kind of work easily with one of these. Great choice for a used GMC work vehicle. Last but not least, the GMC Sonoma GT. The GT was what's popularly termed a "sports pickup" due to its high performance, going from 0 to 60 in under 5 seconds and for a long time was the fastest pickup truck in the world. There were less than a thousand produced, but you can still occasionally find good used ones. Even a regular Sonoma is a good solid choice in a used GMC truck. Whatever type of used GMC Colorado Springs Auto 1 can find you, it'll be the best one out there.

Also check out our Colorado Springs Honda's!