We Sell The Best Used Fords in Colorado Springs! 
Look No Further!
When you are in the market for a used vehicle, Auto 1 in Colorado Springs has everything you need to get behind the wheel of the vehicle you want, today. We have the most comprehensive services.. This organization was founded by our founder, Mark Weida, in 2020. It consists of a group of amazing and friendly people, who can help you figure out what kind of used vehicle is best for you, according to your specific wants and needs. They also help you with getting financed through our many different credit union associations, even if you've had issues in the past. Credit unions typically have lower rates and better service than other financial institutions, and more experience working with historically less-than-perfect borrowers. To get practically guaranteed pre-approval, fill out our credit application online today. The brokers from Auto1 will also continue to help you, as you test drive the vehicle(s) you choose, and then get behind the wheel of the one you want for good! Afterwards, we are still here for you with our Service Department, for any routine maintenance as well as any repairs you may need in the future. Our newly remodeled lounge area has amenities and refreshments you will love, while waiting for your vehicle to be serviced. And if it takes more than 2 hours, we offer you a complimentary loaner vehicle for the day, at no extra cost to you! Auto 1 also has these trained and professional mechanics do thorough inspections on every vehicle we sell, as well as on any vehicle you may use as a trade-in. We use Smart Market Pricing, which is a combination of data from multiple sources, which include, but are not limited to, standard Kelley Blue Book value. This ensures that you get the best fair price for your trade-in, and you also pay only the best prices for all of our vehicles, with no negotiating necessary from the start. Here at Auto 1 in Colorado Springs, we believe we have a better, more comprehensive way of selling used vehicles. If you know that you want a used Ford, Colorado Springs has the best selection of these and so many more, at Auto 1.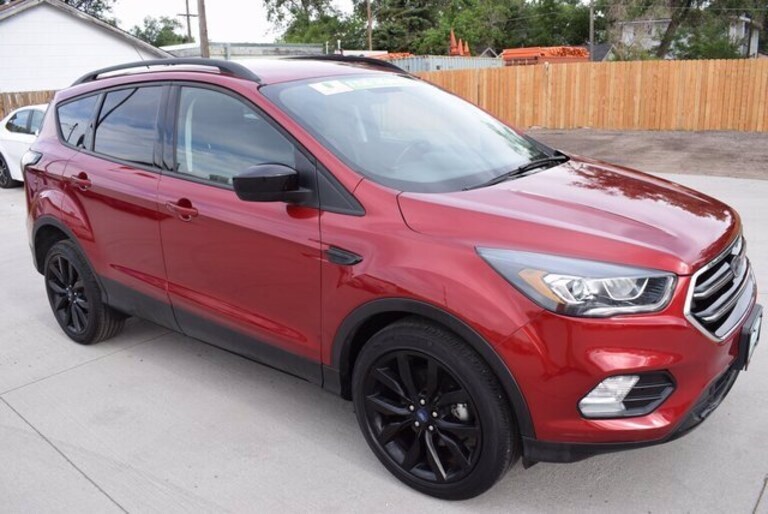 Ford History
Most of us know that Henry Ford created the Ford Motor Company back in 1903, in Detroit, Michigan. The very first Ford came out as the Model A in 1903 and sold for $850. It featured a 2-cylinder engine and a top speed of 30 mph. Henry Ford was also famous for the way he treated his employees like a family, and that he wanted to offer them "a life", rather than just "a living". He was also well known in 1914 for his double the current market average pay, at a $5-a-day salar, accompanied by a shorter working day and company profit sharing. His employees rarely left the company. To find the best model used Ford, Colorado Springs Auto 1 is the place to go.
The Mustang & The F-Series Pickup Trucks
There are so many different models that Ford has made over the more than 100 years they've been in business. We are therefore just going to discuss two of their all-time best models, both of which are still being made to this day. The first top Ford model we will talk about has been a wildly popular classic for 55 years now; the Mustang. It is truly an excellent choice in a (new or) used car, and has been produced since its debut back in 1965. These iconic sports cars are recognizable just by the sound of their engines and their sleek, muscle car design. Beautiful as well as reliable, the Mustang is a high-performance "pony car" that's hard to beat when you want a fast and luxurious sports car. For the sake of relevance as far as used models go, let's start with the year 2000. This year, the Mustang Cobra R came out with a powerful V8 engine and 385 horsepower, making it the fastest factory Mustang ever, at that point in time. But then in 2007, a new version of the Shelby GT500 came out, with a 500 horsepower supercharged V8 engine, beating the 2000 model by a long shot. It also featured a Tremec TR-6060 6-speed manual transmission, suspension tuning, a body kit and 18-inch wheels. Jim Morrison, famous singer of the band The Doors, only ever owned one car, which was an original version of this same Mustang; a 1967 Shelby GT500. Then, in 2011 came the Mustang GT with the introduction to the "Coyote" performance engine, a V8 with 412 horsepower, 6500 rpms, dual exhaust and better gas mileage. In 2015, it came with the all-new EcoBoost, a 4-cylinder turbocharged engine that also got better gas mileage and had even higher performance. With 2016 came the Shelby GT350, equipped with the now famous "Voodoo" engine. A V8 with 526 horsepower and 429 lb.-ft. of torque, Car and Driver voted this version One of the Ten Best Cars of 2016. 
The second Ford model we will discuss is the F-Series pickup trucks. These have been rated America's Best Selling Truck for 43 years straight, as of 2020. And for 38 years straight now, they have been the overall Best Selling Vehicle in America. Pretty impressive! Therefore, it's perfectly understandable to be looking for a used Ford, if you need a pickup truck. In particular the F-150, first introduced in 1948, is the most popular. A big reason for this is due to the fact that they are known for being reliable and safe, plus they have great engine choices. The base model has a 290 horsepower V6 engine, and other options include a 395 horsepower V8 and a 250 horsepower turbo-diesel fuel engine. You can also find 3 turbo-charged V6 engines, ranging from 325 to 450 horsepower. They also get really good gas mileage for a full-size pickup truck, which is especially important these days. But regardless of what model you're looking for, the best used Fords Colorado Springs has to offer can be found with us, here at Auto 1.

Looking for a used gmc in colorado springs? Look no further!