Used Chevrolet Colorado Springs Inventory
Look No Further!
If you are looking to buy a used Chevrolet or any other kind of car, truck or SUV, look no further than Auto 1 in Colorado Springs, CO. We have the best selection and prices anywhere, and if we don't have what you're looking for, our brokerage department will help you find it. Here at Auto 1 in Colorado Springs, we have onsite professional trained mechanics in our Auto Service department, who thoroughly inspect every vehicle before we put it on our lot for sale. We choose only the best ones, which is why many of our vehicles come with a 3-year limited warranty, and we also offer repair and maintenance services for your vehicle. Our service area lounge is pleasant to wait in with amenities, and if your service lasts longer than 2 hours, we'll give you a complimentary loaner car for the day. We also have Auto1, started in 2020 by our founder Mark Weida, to help you find exactly the right vehicle for you and your needs, get you financed if necessary and get you behind the wheel. And speaking of financing, fill out the easy credit application online form to get pre-approved today. We can just about guarantee you will, even if you have bad credit or no credit. Plus, we work with many different credit unions, assuring you lower rates and better service. Auto 1 in Colorado Springs is also one of the largest suppliers of inventory for many of the local dealerships as well, so browse our huge inventory online. If you don't see what you want, however, click on the CarFinder and fill out the short form. Our brokers will start looking right away, and let you know when they locate a matching vehicle. We try to take the stress out of buying a used vehicle, because life is stressful enough. Auto 1 sells the best Chevys you can find, so come here first.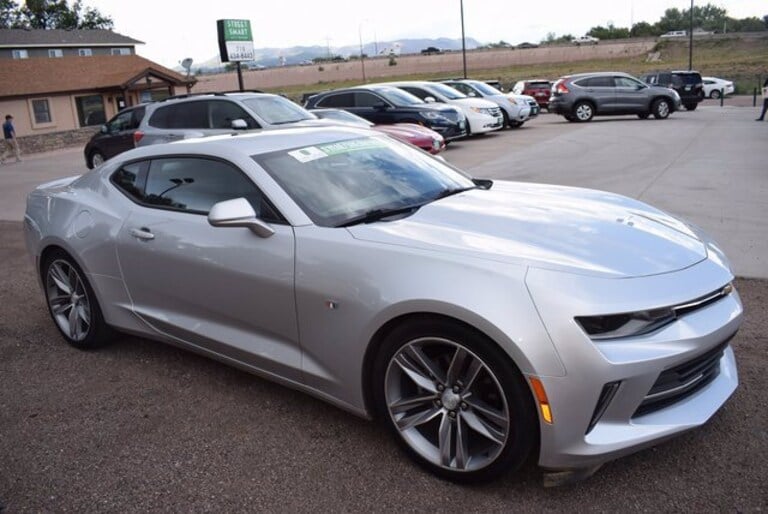 About Chevrolets
If you're a Chevy person, when you need a used car or truck etc., you know exactly what you're looking for and getting into from the start. Chevrolet Motor Company was founded in 1911 by William C. Durant, founder of General Motors Company, and Louis Chevrolet, an automotive engineer and Swiss race car driver. Chevrolet is now actually a division of General Motors. They were in immediate competition with the popular Model-T, which the Ford Motor Company made. Chevy has rivaled and competed with Ford ever since, and especially during the '20s to the '40s, then again during the '50s and '60s. The very first car they made was the Series 3 Classic Six in 1913. The Chevy Corvette was introduced in 1953, featuring a unique fiberglass body, and was extremely popular. In 1957 they introduced their first fuel-injected engine. And in 1960, they came out with the Corvair, which featured a rear-mounted, air-cooled engine. By 1963, 1 out of 10 cars sold in this country was a Chevrolet.
Chevrolet Models And Specifics
One thing you never lack is choices if you're a Chevy person. Chevy makes a huge selection of vehicles to choose from, whether you want a sports car, a sedan, a minivan or van, a truck, an SUV or even a hybrid or electric vehicle, and the list goes on. Here are a few great models for used Chevys. If you're looking for a 4-door sedan, the Chevy Cruze is a great choice. The vehicle is a solid, affordable ride with great safety features. The Chevy Impala is also a great vehicle, if you don't mind paying a little more for a more sophisticated look on the interior, and more features. If you want a hybrid vehicle that's affordable too, the Chevy Volt is an excellent option. These cars offer a cool design, great functionality, excellent fuel economy and plenty of room. If you want to go all electric, try the Chevy Bolt. It has good options and features, and is also reasonably priced. If driving a sports car is more your speed, the best option is the high-performance Chevy Camaro, as it has all the greatness of a Corvette at a much lower price. Still a terrific car when you have the need for speed, a cool look and lots of features. If you're searching for an SUV, then try the Chevy Equinox or the Tahoe. The Equinox is a more compact version that still gives you plenty of space and better gas mileage, plus luxury features and lots of options at an affordable price. The Tahoe is a much larger SUV, but one of the best models out there, offering luxury and sophistication as well as plenty of room and power. For pickup truck options, the Chevy Silverado 1500 is one of your best choices. It is a full-size pickup truck that offers functionality, performance, reliability and affordability. If you need something with even more power, such as for towing heavier weight vehicles, try the 2500 or even the 3500, but expect to pay more.
Additional Facts
Did you know that Chevy made the first SUV ever, and that it holds the record for the longest running line of SUVs, as well? The Suburban was originally debuted in 1933 and featured removable seats for additional cargo. Or were you aware that during World War II, they stopped production of all civilian vehicles to focus on efforts for the war? Indeed, and they converted their plant into an industrial factory for everything war related. Chevy helped the Polish army build an armored car named a Kubus, and did their part in fighting the Germans! So whatever your reasons are for wanting a used Chevy, Colorado Springs has the best quality used vehicles for the most affordable prices here at Auto 1. Browse our inventory online, and if you don't find what you're looking for, go to the CarFinder and fill out the short form with the details of the vehicle you want. One of our brokers will let you know as soon as a matching vehicle becomes available. You'll get convenience, quality, reasonable costs and less stress when buying a used car with Auto 1 in Colorado Springs.

Did you mean chrysler colorado springs? Check out our inventory!