We Sell The Best Colorado Springs Used Buicks! 
Look No Further!
Auto 1 is a Colorado Springs as well as multinational used vehicle dealer, supplying a large number of other used car dealerships the majority of their inventory, as well. As such, we have the biggest selection of the highest quality used vehicles anywhere. If we don't have what you're looking for, we will find it for you! Our founder, Mark Weida, started Auto1, whose sole purpose is to help you get behind the wheel of the used vehicle that's perfectly suited to your specific needs, and drive it home! We here at Auto 1 understand that life is stressful enough, so we try to make your used car buying experience stress-free. That is what our Auto1 brokers can do for you. Just browse our inventory here online. If you can't find anything you like, or don't see the vehicle you've been looking for, just click on the CarFinder and fill out the short form with the details of what you want, and what you'll primarily be using it for. One of our awesome Auto1 brokers will be in touch with you soon, to let you know when a matching vehicle becomes available, or simply to help you find the absolute perfect vehicle according to your particular needs. If you think you may need assistance with financing for the vehicle you want, don't hesitate to ask! Even if you've had some credit issues in the past, we work with all situations here at Auto 1. We work with multiple different credit unions, as they tend to have lower rates and better service. Plus, more experience and willingness to work with customers who have had some problems in the past. We even have a credit restoration specialist on-site, to help you if it becomes necessary. In fact, to obtain a practically guaranteed pre-approval, just fill out the credit application here online! Don't let worries about being eligible for financing stop you from getting the used vehicle you desperately need. Remember, Auto 1 works hard to make your car buying experience stress-free! With Auto 1, we are even here for you after your purchase, as well, with our incredible Service Department. Our experienced, professional and well-trained mechanics are ready and waiting to perform routine maintenance or any other type of repairs you may need, in our full service garage. Book an appointment at your convenience right here, we stay open 6 days a week just to make it easier for you. You can wait while your vehicle is serviced in our newly remodeled lounge area, with lots of amenities and refreshments you will love. And if your service takes more than 2 hours, we offer you a complimentary loaner vehicle for the day, at no extra cost to you! You can see how we have everything you may need, both before and after any purchase, to make buying the best Buick Colorado Springs has to offer here at Auto 1 happen!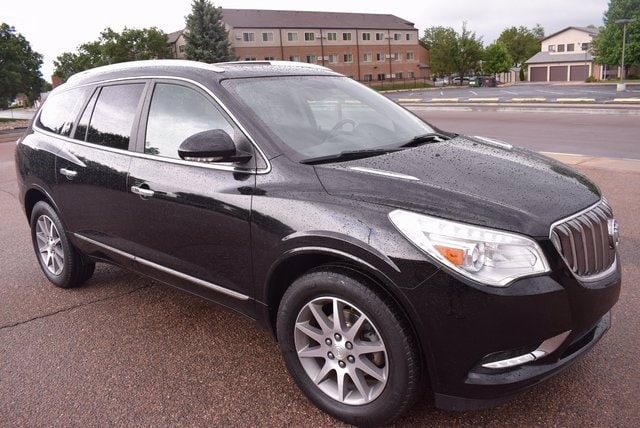 Buick History
First of all, Buick Motors was founded in 1903 by automobile pioneer David Dunbar Buick. Buick is now a division of General Motors, which was established in 1908. Before the establishment of General Motors, GM founder William C. Durant had served as Buick's general manager and major investor. Buick Motors was the first production automobile maker in the world to equip its cars with overhead valve engines, which it unbelievably did back in the year 1904. Buick has been marketed mostly as a premium automobile brand, selling luxury vehicles positioned above GM's mainstream brands, while below the flagship luxury Cadillac division. Believe it or not, today, the main market is China, where 80% of Buick-branded automobiles are sold. But Buick is one of the oldest automobile brands in the entire world, and the oldest one in the United States. The first two Buick automobiles were made in 1899 and 1900 at the "Buick Auto-Vim and Power Company" by chief-engineer Walter Marr, which is how far back Buick really dates. The funny thing about that, is that back then, David Buick was reluctant to begin making automobiles because he felt satisfied with stationary and marine engine production. This is why Marr left Buick in 1901 to found his own automobile company, under his own name. But eventually Marr was rehired as chief engineer, to begin making automobiles for Buick. The friend who had financed Buick Motors up to that point was Benjamin Briscoe, who sold out to James H. Whiting towards the end of 1903. Whiting built only a few automobiles in 1904, the model B, before running out of capital, causing him to bring in William C. Durant that year as controlling investor, who from 1904 to 1909 spent his time turning Buick into the biggest-selling automobile brand in the U.S. The creation of General Motors is attributed in part to the success of Buick.
Best Used Buick Models
Let's start right away with the Buick Enclave, if you're looking for a reliable, full-size crossover SUV. We recommend going with the year 2013 or above, as that year it was redesigned, adding xenon headlights with LED running, fog and taillights, stylish waterfall grille, and a redesigned dash complete with ambient lighting. Front-wheel or optional all-wheel drive, the Enclave is a great winter vehicle that can handle ice and snow with ease. Known for its upscale quality overall, Buick doesn't disappoint with this model. Next is the Buick Encore, a subcompact SUV that offers versatile passenger and cargo capacity, fuel efficiency and a quiet, classy ride. The Buick LaCrosse debuted in 2005, and the U.S. News & World Report has consistently given the LaCrosse high marks for its quiet ride, luxurious interior, high-class materials and safety excellence since its 2010 redesign. For a sophisticated commute, go with a luxury car like the LaCrosse. Plus, in 2014 it was redesigned with more stylish front and rear fascias, and a modern wheel design. Any Used Buick Colorado Springs may have for sale can be found with the help of one of our Auto1 agents, today!

Looking for a chevy in colorado springs instead? Check out our inventory!