Check Out Our Colorado Springs BMW Inventory!
Look No Further!
If BMWs are your passion, Auto 1 has you covered. We sell the best used BMWs in Colorado Springs, or any other brand you may be looking for. Since we are a major supplier of inventory for many dealerships both local and otherwise, we have the biggest selection of the highest quality used vehicles around. At Auto 1, we believe that life is stressful enough, so we try to make sure your car buying experience remains stress-free. To do that, we have everything you may need in one spot. You can just browse our inventory here online, and if you don't see what you're looking for or can't find anything you like, simply click on the CarFinder. Fill out the short form with the details of what you want and primarily what you'll be using it for, and one of our brokers will be in touch. Our founder, Mark Weida, started Auto1, who we partner with and whose sole purpose is to help you get behind the wheel of the car you want, and drive it home. If we don't have the BMW or other brand vehicle you want, we'll find it for you! One of our Auto1 brokers will let you know when a matching vehicle becomes available, or to assist you in finding the absolute perfect vehicle, according to your specific needs. If you have a vehicle you want to use for a trade-in, we have professional appraisers on-site! Or if you prefer, you can use our online tool for estimating the current fair market value on your vehicle. Rest assured, Auto 1 will give you the best fair price possible for your trade-in. And if you need assistance with financing for your vehicle, we use several different credit unions, who have lower rates and better service. We work with all types of situations here at Auto 1, so no matter what credit problems you may have had, we can help. We even have a credit restoration specialist on-site to help you, if it should become necessary. To obtain a practically guaranteed pre-approval for financing, just fill out the credit application here online. Auto 1 is also here for our customers long after any purchase, with our awesome Service Department. We have an excellent full service garage, and experienced, professional mechanics who are ready and willing to perform all of your routine maintenance and any other type of repairs you may need. You can book an appointment right here online, 6 days a week. You can wait while your vehicle is serviced in our newly remodeled lounge area, with plenty of amenities and refreshments you will love. And if your service takes more than 2 hours, we offer you a complimentary loaner vehicle for the day, at no extra cost to you. So you can see why the next time you want to find the best BMW Colorado Springs has to offer, you should come visit us here at Auto 1!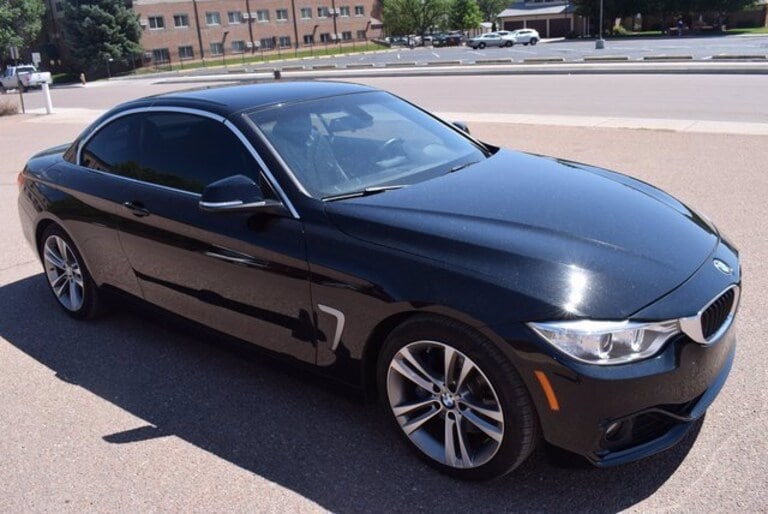 BMW History & Facts
First off, BMW or Bayerische Motoren Werke AG, is a German automobile manufacturer that produces luxury vehicles and motorcycles. The company was founded in 1916 as a manufacturer of aircraft engines, and began producing automobiles in 1928, mainly due to the Treaty of Versailles.As a stipulation of the treaty, German companies were no longer allowed to produce warplanes and warplane engines. This forced the company to adapt and expand into the automobile industry. Throughout the 1930s, BMW expanded its range into sports cars and larger luxury cars. Aircraft engines, motorcycles and automobiles would be BMW's main products until World War II. At that time, BMW concentrated on aircraft engine production using forced labor consisting primarily of prisoners from concentration camps, with motorcycles as a side line and automobile manufacturing ceased altogether. This occurred against the wishes of its director, Franz Josef Popp. It was heavily bombed, and ultimately its remaining West German facilities were banned from producing motor vehicles or aircraft after the war. But finally, in 1948 BMW restarted motorcycle production, and resumed car production in Bavaria in 1952 with the BMW 501. Slow sales of luxury cars and small profit margins from microcars meant BMW was in serious financial trouble and in 1959 the company was nearly taken over by rival Daimler-Benz. But a couple of major investors and the success of the BMW 700 kept the company alive, and in 1998 BMW acquired the rights to the Rolls Royce brand, and today their automobiles are marketed under the brands BMW, Mini and Rolls-Royce, and motorcycles are marketed under the brand BMW Motorrad. In 2015 they were the 12th largest producer of motor vehicles in the world.
Best Used BMW Models
BMW enthusiasts in particular appreciate BMWs because all of the cars are either RWD or AWD, which contributes to their exceptional handling and performance. The BMW brand itself stands for high quality luxury vehicles with magical suspension tuning abilities that make the cars handle incredibly. Here are a few of the best used models you can buy. We'll start with the 2008-2011 BMW 128i. It has an N-52 engine, which BMW used from 2005-2015 and is thought of by some as the most reliable BMW engine ever made. This particular beauty has 230 horsepower and an optional 6-speed manual transmission, but even the automatic was incredible. Beautiful design as always, and these used BMWs are affordable, too. If you love BMWs, this one is a smart choice. Next up is the 2006-2011 BMW 328i. With this choice, you get suspension tuned just right to provide nimble handling, the engine gives you smooth acceleration and the transmission delivers seamless shifting. The 2006-2008 years can be found at very reasonable prices, as well. Next, the 2004-2008 BMW 330Ci is a 250 horsepower engine that should still be holding up ok, but since we're talking about older vehicles, be sure to have the engine thoroughly checked out before purchasing. If all is well, you should have a luxury BMW for around $5,000. Last but never least, try the 2006-2010 BMW X3 if you're looking for a reliable SUV by this brand. Regardless of what type of BMW, if you want the best, come to Auto 1.

Looking for a Buick in Colorado Springs? Check out our inventory.