Check out our Colorado Springs Used Audis
Look No Further!
You may be surprised to know that when you're looking for a vehicle like a used Audi, Colorado Springs uses Auto 1. Here at Auto 1 in Colorado Springs we have everything you need for buying any brand of used vehicle in one spot. Life is stressful enough, so we try to make your car buying experience stress-free. We also supply many other dealerships in the area with a large part of their inventory, and so we have a huge selection of quality used vehicles. Our founder, Mark Weida, started Auto1, whose sole purpose is to help you get behind the wheel of the vehicle you want. Browse our inventory here online, and if you don't see what you're looking for, click on the CarFinder and fill out the short form with the details of what you want. When a matching vehicle becomes available, one of our Brokers will let you know. Let us find it for you! Need financing and have some credit issues in the past? No problem, we can help you with that, too. In fact, to obtain a practically guaranteed pre-approval, just fill out the credit application here online. We work with all situations, and we use multiple different credit unions as they tend to have lower rates and better service. They also have more willingness and experience in dealing with people who have had some problems in the past. Take the time to look through our used audi colorado springs inventory. Auto 1 also gives you the best fair price for your trade-in vehicle, and we even have professional appraisers on-site if you would like to have your vehicle looked at by them. We also have an online tool you can use to see how much the vehicle is worth ahead of time, and it's easy enough to double-check numbers with sources like the Kelley Blue Book. We use Smart Market Pricing to sell our used vehicles for the best and lowest fair price we can, right from the start. This eliminates the need for back and forth negotiating. Auto 1 is also here for you after any purchase, with our Service Department. We have a full service garage and professional trained mechanics to perform routine maintenance or any other repairs you may need. You can book an appointment 6 days a week for your convenience, and wait while we service your vehicle. Our newly remodeled lounge area has lots of amenities and refreshments you will love, and if your service takes more than 2 hours, we will provide you with a complimentary loaner vehicle for the day, at no extra cost to you. You just can't beat our comprehensive services here at Auto 1 in Colorado Springs.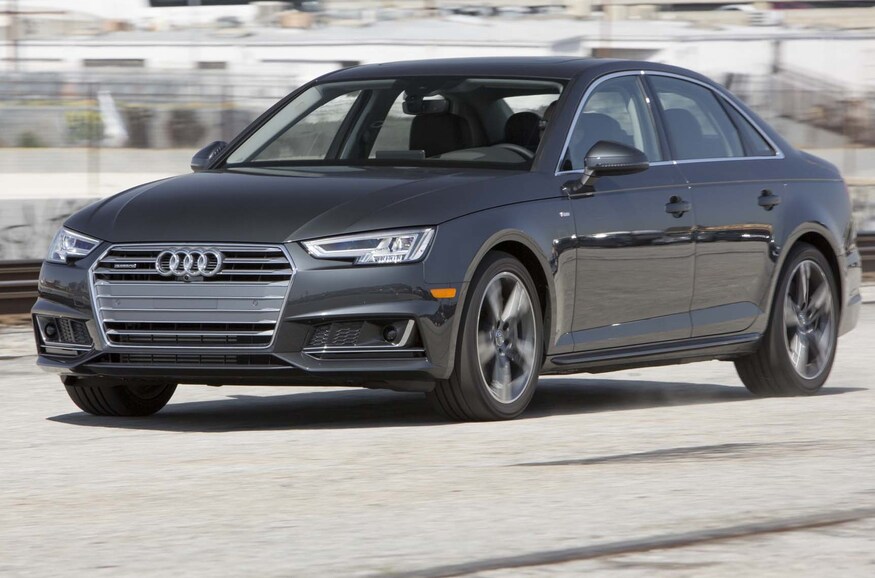 Audi History
The history of the Audi automobile manufacturer is a little complicated. It's a Germany based company, founded by a man named August Horch as the Audi Automobilwerke GmbH Zwickau in 1910, and then from 1915 on, as Audiwerke AG Zwickau. (Zwickau is a state in Germany.) Horch left the Audiwerke in 1920 for a high position at the ministry of transport. In September 1921, Audi became the first German car manufacturer to present a production car, the Audi Type K, with left-handed drive. Left-handed driving established dominance over the years in the 1920s because it offered a better view for drivers as well as safer passing ability. In August 1928, Jørgen Rasmussen, the owner of Dampf-Kraft-Wagen (DKW), acquired the majority of shares in Audiwerke AG. In 1932, Audi merged with Horch, DKW, and Wanderer, to form Auto Union AG, during which the Audi Front was created; the first European car to combine a six-cylinder engine with front-wheel drive. Then in 1939, the "Audi" name disappeared completely from the new car market for more than two decades. Because of the war, the original company was seized, the factory dismantled and the funds were expropriated by the Soviet Army. However, they soon relocated in West Germany, and reformed the company, which was launched again in 1949. Daimler-Benz took total control of the company in 1959, but in 1964, Volkswagen acquired a 50% holding in the business. Fearing that Volkswagen had no long-term ambition for the Audi brand, Auto Union engineers under the leadership of Ludwig Kraus developed the first Audi 100 in secret, and presented it to VW's chief Heinz Nordhoff, who was so impressed with it, it debuted in 1968 as a huge success, restoring the Audi brand and reputation. But Audi was only introduced to the United States market in 1970. It has gained popularity ever since.
Great Used Audi Models
If you happen to be looking for a used Audi, Colorado Springs offers you Auto 1. We sell the best used Audis anywhere, and if we don't have what you're looking for, we'll find it for you. So let's talk about some of the best used Audis out there. First off is the 2013 Audi A4, a powerful standard 4-cylinder with 211 horsepower, with a supercharged V6 with 333 horsepower option available. You can also choose from a 6-speed manual or a 7-speed automated manual transmission, and all wheel drive comes standard. Next up is the 2009 Audi A3, for a terrific looking, upscale, sporty small car. Known for its high performance and precise handling, this beauty is rated best used hatchback in its price range, at under $20,000. For the money, this Audi is a fantastic choice. Up next is the 2013 Audi Q5 for the best luxury compact SUV, a little pricier than some but absolutely worth it. Tasteful interior, plenty of space, infotainment system, excellent fuel economy and great handling make this a top pick for the suburban family or Mom and Dad's vacation vehicle. Whatever you may need an SUV for, this Audi won't disappoint you. Then we have the 2010 Audi A6 for the athletic enthusiast, this upscale midsize car is a beast with the supercharged V6 350 horsepower engine and all-wheel drive options checked. Standard V6 still gets 265 horsepower and 28 mpg, plus a luxurious interior and excellent safety ratings. With the optional supercharged engine, this car's performance is off the charts for any other car in its class. Even with just the standard engine,  the car is gorgeous and performs well. You'll love this Audi. So let us know at Auto 1 when you need to find any used Audi Colorado Springs has to offer. Let Auto 1 take the stress out of your used car buying experience, today.

Looking for a BMW in Colorado Springs? Check out our inventory!