Our Used Acura Colorado Springs Inventory 
Look No Further!
Have you been searching for the best used Acuras Colorado Springs has to offer? Here at Auto 1, we're confident that if we don't have the Acura or any other brand of used vehicle you're looking for, we'll find it for you! Because we are a major supplier of inventory for several different local dealerships, we have the biggest selection of the highest quality used vehicles anywhere. Just browse our inventory here online, and if you don't see what you're looking for, simply click the CarFinder and fill out the short form with the details of what you want, and one of our Auto1 brokers will be in touch with you soon. We will let you know when a matching vehicle becomes available, or assist you with finding the absolute perfect used vehicle according to your specific needs. If you have a trade-in vehicle, we have professional appraisers on-site, and you can also use our online tool to get an approximate quote. Numbers can easily be verified by checking your used vehicle's value with the Kelley Blue Book. We will give you the best, fairest price possible. We also use Smart Market Pricing for all of our used vehicles, so we're tagging them right the first time with our lowest price, eliminating the need for back and forth negotiating. Do you have some credit issues in your past but really need financing to afford the used vehicle you want? No worries, we work with all situations here at Auto 1, and use multiple different credit unions as they have lower rates and better service. Plus they're more willing and experienced in dealing with consumers who have had some problems with their credit in the past. We even have a credit restoration specialist that can assist you if necessary. Auto 1 in Colorado Springs is here for you after any purchase as well, with our awesome Service Department. Our full service garage and professional, experienced and well trained mechanics are ready to perform routine maintenance or any other type of repairs you may need. Just book an appointment here online at your convenience, 6 days a week. You can enjoy your wait in our newly remodeled lounge area with plenty of amenities and refreshments you'll love. If your service takes more than 2 hours, we offer you a complimentary loaner vehicle for the day, at no extra cost to you. So really, what more could you ask for in a used car dealer? When you want to find the best used Acura, Colorado Springs uses Auto 1.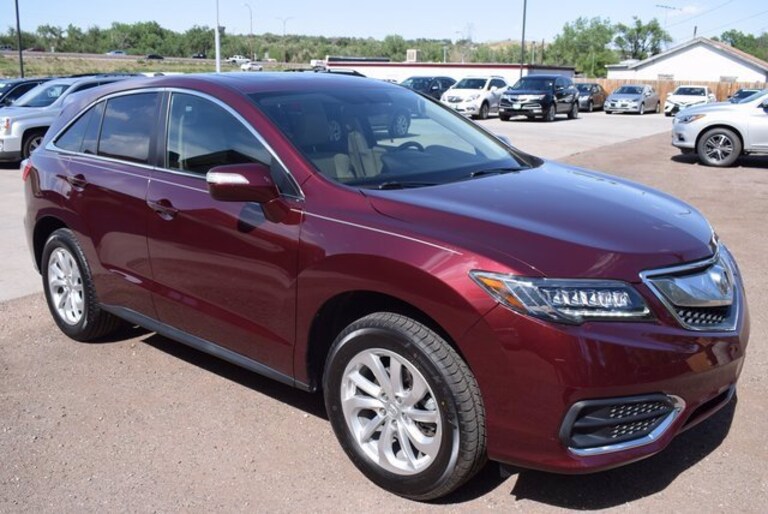 Acura History
First of all, Acura is the luxury vehicle division of Honda, a Japanese automobile manufacturer introduced to the American market in 1986. Acura is also the first Japanese automotive luxury brand. Their first luxury vehicle that was a hit was the Legend in the late 1980s, and it inspired the other big Japanese automakers from Toyota and Nissan to come up with their own luxury division. Toyota started Lexus and Nissan started Infiniti. The 1990 launch of the NSX, a mid-engine exotic sports car, offered a reliable and practical alternative to exotic European sports cars, and introduced Honda's VTEC variable valve timing system to the North American market. The 1993 Legend coupe featured Acura's first use of a 6-speed manual transmission. In the 2000s, Acura introduced several new impressive models including the NSX and several others, among them an SUV and a crossover. A second generation NSX was launched in 2016, featuring a twin-turbocharged mid-engine, a 9-speed dual-clutch transmission, and Sport Hybrid SH-AWD. The company continues to put out newer, better models to date.
Interesting Acura Facts
The name Acura has a Latin origin, the "acu" meaning "done with precision" or "mechanically precise." The Japanese makers pronounced it "A-coor-uh," but customers preferred "Ah-cure-uh", so the latter was adopted. The Acura NSX or the "New Sports eXperimental" was the world's first car that was produced completely with aluminum, and was marketed as the "Everyday Supercar". Acura and Marvel Entertainment have had a professional partnership since 2010. Though essentially a marketing creation for the North American market, the Acura car brand was immediately successful, thanks to its attractive features, performance and Honda's reputation for reliability. The 2017 NSX is a hybrid that has a twin-turbo V-6 coupled with three electric motors to produce 573 horsepower, and gives the NSX the distinction of being the first supercar to combine these elements. It also has a 9-speed, dual-clutch automatic transmission, this hybrid for hybrid-haters goes from 0-60 in 3.1 seconds. The Integra, one of the 2 first models Acura debuted in 1986, remains the best-selling Acura of all time, and is still being produced today.
Best Used Acura Models
Let's get started on some of the best Used Acuras in Colorado Springs you can buy, starting with the RDX years 2009 through 2012. These vehicles are extremely reliable, give you great performance, have plenty of power, a beautiful interior and terrific standard features which include a power moonroof and heated seats. Great SUV for the money, for sure. Next up is the 2010 through 2012 Acura RL, with fantastic reliability and high safety ratings. Standard all-wheel drive makes them handle amazingly well, and great high-tech features when it was new. They included a sunroof, push-button start, Bluetooth, heated power front seats, a USB port, dual-zone climate control and a power rear sunshade, all standard features. Next we have the 2013 through 2017 Acura ILX, the base 150 horsepower 4-cylinder engine is paired with a  5-speed automatic transmission and is best for city drivers. The available 201 horsepower 4-cylinder engine comes mated to a 6-speed manual transmission. Great reliability and fuel economy, plus this luxury small car seats five, and comes loaded with terrific features. Last but not least, the Acura TSX, years 2010 through 2014. Known for its long list of standard features and quality interior, this small car wonder leaves a little to be desired as far as speed, so upgrade to the V6 if possible. Great car for the money. No matter what model used Acura, Colorado Springs uses Auto 1 to find the best ones!

Looking for a used audi in colorado springs? Check out our inventory!